Current Events and Activities
Without the support of our friends and neighbors in the community, we couldn't do what we do. Please consider participating in the following fundraisers and activities we have going on. With your help, we can continue to uplift those most at risk in our community.
Doorstep's Christmas Store
As with everything else in this year of COVID, Doorstep's Christmas adoption will not be a "Store" this year. 
We are still adopting 260 Households from the Christmas Bureau which includes 800+ individuals for Christmas, and we greatly need your help with a few select donations!
This year we are all trying to work together as a community and provide for Christmas.  The Christmas Bureau and adopting agencies have agreed to provide each household at least a food order and $15 Visa gift card (no activation fee) for each household member.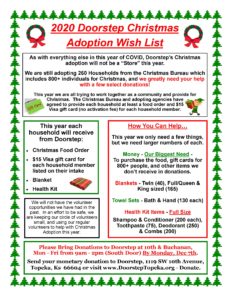 How You Can Help…
 This year we only need a few things, but we need larger numbers of each.
 Money - Our Biggest Need - To purchase the food, gift cards for 800+ people, and items we don't receive in donations.
 Blankets - Twin (40), Full/Queen & King sized (165)
 Towel Sets - Bath & Hand (130 each)
 Health Kit Items - Full Size Shampoo & Conditioner (200 each), Toothpaste (75), Deodorant (250) & Combs (200)
Bring donations for Christmas to Doorstep Monday - Friday from 9am - 2pm.
1119 SW 10th Avenue  (10th & Buchanan - South Parking Lot Door)
Monetary donations may be brought to our office, mailed to 1119 SW 10th Ave, Topeka, Ks 66604 or you can go to the "Donate" tab on our website and use PayPal.
We are asking for towels and health kits items be at our office by December 7th.
Thank you in advance for your help this year.  We know times are challenging on many levels for all of us.  As always, just like what makes Doorstep special, it is many of us doing what we can to help provide for our neighbors in need.
Monetary Donations
Send your monetary donations to Doorstep:
1119 SW 10th Avenue
Topeka, KS 66604-1182
We accept both cash and checks by mail or in person.
Please include a note if you are from one of our supporting congregations.
We also accept payments via PayPal!
Neighbor Helping Neighbor Walk/5K Fun Run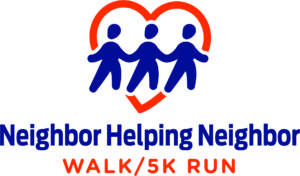 Thank you to all of our Sponsors who helped with our 2020 Virtual Event.
Thank you to those who participated during this time of COVID!
We were still able to raise $6,000.  Short of our goal, but during this COVID time, we were pleased to still have the event.
SAVE THE DATE for our 4th Annual Neighbor Helping Neighbor Walk/5K Fun Run...
Sunday, October 3, 2021, 2pm, Lake Shawnee
Doorstep's 2nd Annual Summer Cash Bash &
EnvistaCares Challenge are a BIG Success!
During the month of July we asked the community to donate to Doorstep, and help us earn match money!
YOU did and WE did!
We received $53,347.89 from donations and both event's match money!
Thank you to everyone who donated to Doorstep in the month of July!
"Doorstep feels beyond blessed by the generosity of our donors, and the community as a whole in helping us 'earn' these match dollars!
Our agency began in 1966 as neighbors helping neighbors, and that is still true today! When needed, people will step up to help their neighbors.
We have been quite busy, especially lately, assisting with the needs of our community during this time of COVID-19, and those who generally struggle to make ends meet. Having these funds will allow us to help more people, as we are able, in the months ahead.
We are grateful to Envista Credit Union for allowing us to be one of their charities this year, and to the community for giving to us!"
17th Annual Operation Soup Line

Thank you to everyone who supported our event!
Whether you came to the event, or ordered delivery... we appreciate the support!
We made over $18,000 on our event this year!  See you again in 2021!